"All dogs are great...any Terrier is better"

There are currently 27 Terrier breeds recognized by the AKC, whose sizes range from fairly small, as in the Norfolk, Cairn or West Highland White Terrier, to the grand Airedale Terrier.
These
are a feisty but fun loving bunch,
they are also very smart,
alert,
enthusiastic, energetic, loyal and fearless. Terriers love to play and always
look like they are ready and waiting for some exciting action. And if it doesn't happen, they will find a way to let you know they want some attention. You'll never have a chance to get bored with a terrier around the house.
Most of the Terrier breeds were originally developed in the British Isles.
They were mainly used in hilly farmland to do some herding, hunt down small animals in dens or burrows or chase down vermin. Their coat, strong
jaws, digging ability and quickness have equipped them well for these jobs.
Because they are so lively and engaging, it naturally evolved that in addition to their working abilities, they also became beloved pets and companions.
These are the breeds that belong to the Terrier Group: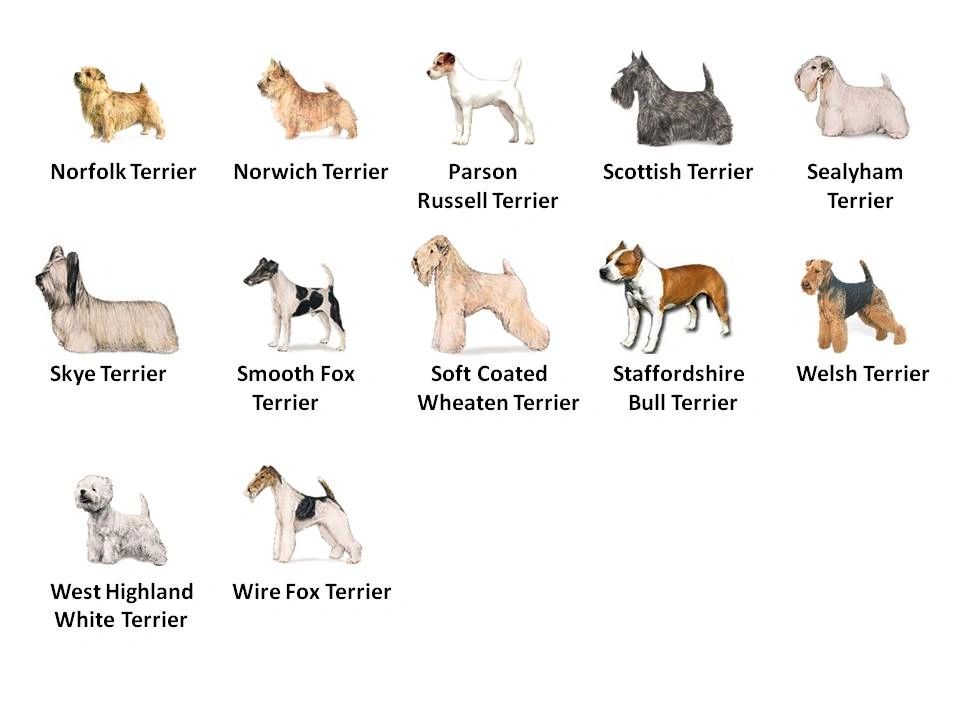 For detailed information on breeds, breed standards, temperament, and all pertinent information, click on the links to these National Breed Clubs, sanctioned by the AKC. We have also listed some of our very reputable and responsible member breeders. If you are going to purchase a dog, PLEASE go through a breeder that is a member of the National Breed Club.